Welcome back!
Have the trees started changing colors where you are? It's cold enough outside in the mornings that I now need to wear a light jacket. Only last week, dawn felt too hot to breathe. Summer passes by so fast.
I chose the Mystic Mondays Tarot for this month's reading. I picked up this deck on a whim based on its packaging and images I found of several cards online. At first glance, I appreciated the deck for aesthetics alone. Its bright colors, geometric patterns, and use of silver foil edging really caught my eye. Yet the more I used Mystic Mondays, the more annoyed I became. I loved the deck's slick, laminated feel, but the cards were so thick I could barely shuffle them as a group. (I'm not sure if I should blame their edging or my small hands, but I don't struggle this much with other decks.) More importantly, although I adore the cards from an artistic standpoint, some strip the Rider-Waite Smith imagery down to such sparse symbolism that the intended meaning is nearly lost. This minimalism might add another layer of difficulty for new readers, leading them to depend on the accompanying book. Admittedly, the booklet contains two pages for each card, with upright and reversed meanings. I often found myself pulling up the original imagery from memory as best I could and filling in the missing details to trigger my intuition. Not ideal at all. While I'll probably keep trying with the Mystic Mondays Tarot, we did not click as well as I'd hoped.
Anyway, on with the Tarotscope.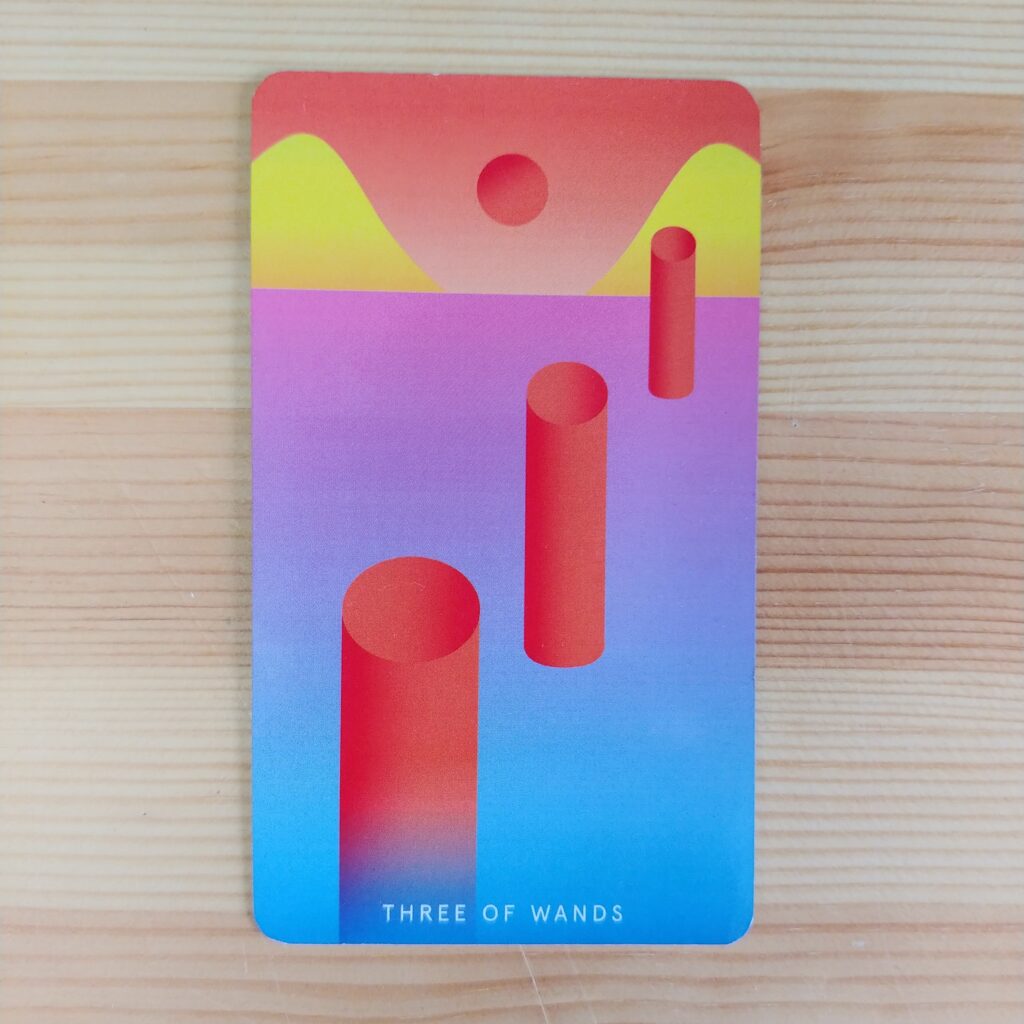 Advice for All Signs – Three of Wands – Your hard work in recent days pays off, taking you one step closer to your goal. Don't give up now, no matter how deep the water is. You'll reach your desired shore eventually if you keep swimming. Just remember: it can be hard to judge how far you have come when you're still struggling against the waves. Progress may seem slow at times but could surprise you from another perspective. Allow yourself to dream. Let the anticipation of success drive you forward.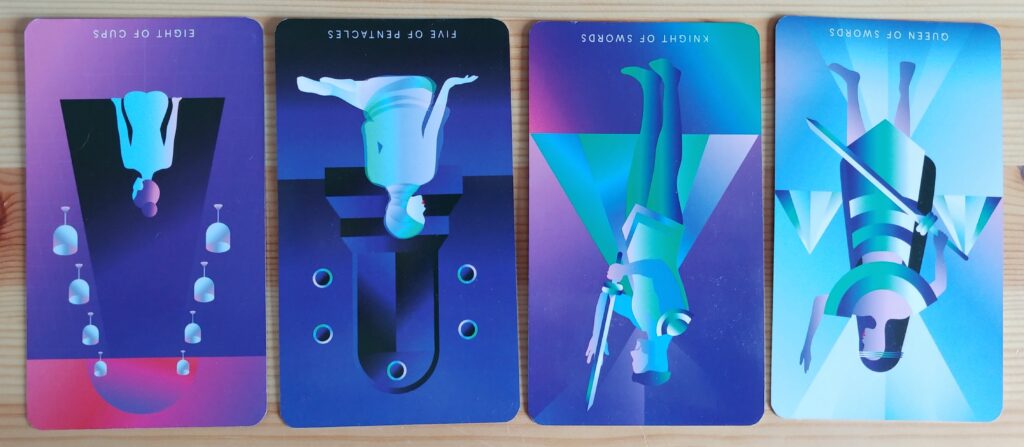 Aries – Eight of Cups Reversed – You would think it better to have too many choices rather than too few, right? Well, Aries, an abundance of options paralyzes you with indecision in September, confusing you with what to do next. Though part of you knows you can't always find what you want in familiar territory, the rest of you worries about what may lurk over the horizon. You cannot avoid making these decisions forever. Some of these options may fade given time.
Taurus – Five of Pentacles – Recent efforts exhausted your reserves, but take heart! This lean period nears its end, Taurus. This card suggests both physical and financial recovery this September. Try to slip away for a moment by yourself if you can and gather your thoughts. Now is the time to evaluate your money and investments. Plan for the future as your energy and resources rebuild.
Gemini – Knight of Swords Reversed – You figured out what you want — and you want it now. Impatience soars for you in September, Gemini. You've worked so hard it's almost impossible to wait any longer for success. Just be careful. The desire to see things through quickly could lead to impulsive or reckless actions. Thinking things through will lead to fewer mistakes in the long run.
Cancer – Queen of Swords Reserved – You're faced with a delicate balance between facts and feelings this month, Cancer. On one hand, September demands you examine issues with a clear head, without letting personal bias shadow the truth. On the other, this card cautions against relying on logic alone. If you act without regard to the emotions of others, you may seem cold, even cruel. The situation at hand requires your personal touch for resolution.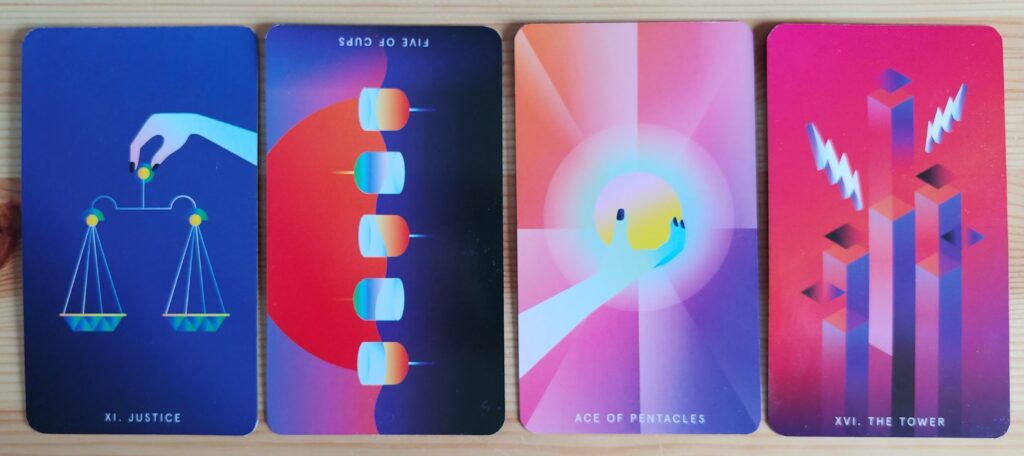 Leo – Justice – Are you ready to present your case, Leo? With the Justice card in your sign, make sure to brush up on the laws of the land. Watch out for red tape and tricky regulations in September. If you do make a mistake, own up to it. Let your objective, fair outlook sway important outcomes. Keep cool! Now isn't the time to let your heart rule your head.
Virgo – Five of Cups Reversed – Be proud, Virgo. You've made it through the long night. Now a new month dawns, bringing with it a surge of optimism and a chance for recovery. Let go of any lingering negativity. You can learn from this experience. Forgive yourself for the past. Recognize how much your cups contain.
Libra – Ace of Pentacles – September may bring an end to summer in the northern hemisphere, but the Ace of Pentacles advises planting the seeds of future financial harvests this month. Indeed, this period of prosperity and good fortune goes beyond monetary wealth. Be on the lookout for opportunities of all types during this time. Now is the chance to manifest what you want. You could make a serious impact on your world with focus.
Scorpio – The Tower – On your toes, Scorpio! With September, comes sudden and unavoidable change that strikes at the very foundation of your life. This upheaval may feel like a complete disaster at first, but you can rebuild better than before. Learn what you can from the fallout and salvage anything worth keeping.
Sagittarius – Five of Swords Reversed – Stressed out by recent conflict, Sagittarius? If you can't reconcile with the other party, try forgiving them and forgetting the whole situation. Release any lingering resentment or need to be right. The only validation you need is your own. Besides — consider what you could gain from a truce!
Capricorn – Four of Wands – Your hard work comes to fruition this month, Capricorn. You built a solid foundation in previous weeks, and this stability allows you the freedom to have fun with those you love in September. Revel in your home and celebrate your family (blood or not). Both are the backbone of your success.
Aquarius – Hierophant Reversed – Some rules clearly act in our best interest, to keep us safe or healthy. Others feel more arbitrary — or, worse yet, were made only to benefit those in power. This month you question the reason behind certain regulations, and it leaves you eager to rebel, Aquarius. Challenging the status quo will put you through your paces too. Get ready to break the mold society has created for you.
Pisces – Judgement – It's time to take a good, long look in the mirror, Pisces. Evaluate yourself. No, you may not match the image of perfection you've tucked away in your head — not yet, anyway. Absolve yourself of past sins and keep working at your goals. Otherwise, the Judgment you feel will hold you back from ascending to the next level.
We've come to the end of another Tarotscope! May this glimpse into the Mystic Mondays Tarot provide some guidance for September. You can find information on how to book a reading with me here and on my website. Follow me on Facebook and Instagram for free daily readings, and find my find my books on Amazon.
See you in October!
-Will