New on the Bookshelves:
B. Morlan's Magickal Planets is now available!
Keys of Ocat is available from Nephilim Press! If you enjoyed Honoring Death: The Arte of Daemonolatry Necromancy,  Keys of Ocat will take it all several steps further beyond 101, and immerse you into the dark pathwork and Saturn rites of  Daemonolatry Necromancy and the Death Daemonic. Don't forget to check out Keys of Death and Necromantic Sacraments!
There are still copies of the grimoire Infernal Colopatiron available.  We're expecting them to become scarce soon (only 60 copies left!), so if you've been considering a copy, you might want to grab one sooner rather than later!
Check out DB Publishing's latest releases — Sigillum Diaboli - a treatise on sigil divination, and Paths to Satan: A Guide to Contemporary Satanism by Martin McGreggor!
You can get more titles in our Bookstore .   We've revamped the bookstore to be more user friendly.
We also have our Sephira Alchemy Page offering custom made items and limited quantity oleums and tinctures blended specifically for Daemonolatry practice by Daemonolatry alchemists and magi.
In the upcoming months, select titles will be released on iTunes in the iBookstore. We might also be working on releasing the Daemonolatry Hymns CD on iTunes.
Changes in Payment Methods Across the Website
Please know that you can now use either Google Checkout OR Paypal to pay for any service or item on this website. (Money orders, and certified checks can be used to buy items as well).
Readings Available!
Wondering what is going on in your life? Need some direction? Curious about possible spiritual paths you haven't explored yet? Want to know where your magickal strengths are? A reading might be able to lend some insight!
Thank you for visiting and may Lucifer light your way!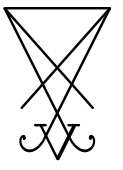 NOTICE: If you are a long time member of our forum, or a member of the Demonolatry community (SGD or GD or just TG),  and are interested in becoming one of our regular bloggers or you would just like to do a guest blog to herald a coming book or to share ritual work, personal research,  or your thoughts on Demonolatry and/or the Daemonic, contact demonolatry.org@gmail.com! We'll get you set up.
The Posting Schedule for 2013 is as follows (subject to change without warning):
Please note that some bloggers may choose not to post in any given month. We're hoping with the variety of bloggers on this site that there will still be plenty of active content to keep you busy. Also note some bloggers who were active in 2011 may have become inactive for 2012 due to overloaded schedules or other commitments. You may still find their posts under their name in the sidebar.
---