Or more appropriately – don't be afraid of the Sculpey.
Oven bake clay is one of those things that, for about the last ten years, has been a part of my magickal tool box. Why? Because you can get the exact talisman, amulet or tablet you need for any operation without having to spend  a lot of money and time finding something pre-made or  someone else to make it. Clay is also more permenant than paper, not as permenant as metal or stone, and still cheap enough and non-toxic enough to use for offerings that you might choose to bury in the earth or offer to the water.
The beauty of Sculpey is that it's so versatile. You simply form the clay into the shape you want, carve the sigils or appropriate symbols or letters in it, then bake according to the instructions, let cool, paint, allow to dry, and you're done.
There is power in the making of an amulet or talisman (or even a tablet). I like to vibrate enns or chant while kneading the clay (sometimes kneading a drop or two of my blood into it), giving it shape, and carving the symbols. I may even run it through smoke and bless it with oleum before baking it. I sometimes add stones to imbue the clay with additional properties. Since the clay comes in many colors it's really easy to get the colors you want. You just need an oven.
Here are some pictures of the magickal items friends and I have made with oven-bake clay to give you an idea of what you can do.
 Daemon Sigil Rune Stones and small clay sigils used for ritual.
Here are a variety of amulets created using clay, paint and stones. When sticking stones into your amulets or lamens, push the stone into the clay first, take it out, then bake the amulet, then, once cooled, hot glue the stone into place. If you just shove the stone in there and bake it, the stone will fall out upon cooling.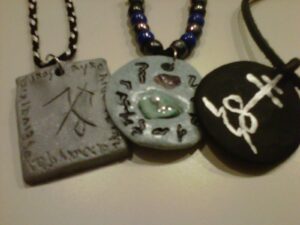 Some other ideas for use of Sculpey in magick include clay altar pattens, wall sculptures, magickal rings, stick incense holders, oleum-blood bowls, salt holders, place markers, altar bookmarks, elemental tiles, figurines for sympathetic magick, deity sculptures, offering plates/bowls, etc…   Oven bake clay can be found at most craft stores. Enjoy the process of creation with your magick and may the Daemonic Divine guide you!