Daemonolatry Goetia (September 27, 2014)  Noon MST (2pm EST)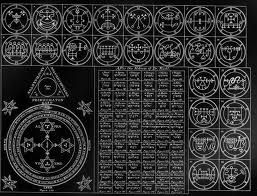 Instructor:  S. Connolly
This workshop costs $50 per ticket (i.e. connected computer) and will discuss Goetia in context with Daemonolatry as well as allow time for student questions and personalized help. Two hours are scheduled for each workshop, but Ms. Connolly will stay longer if necessary to give attendees personalized attention.
Have you ever wanted to work effective Goetia magick, but found the original method of ritual disrespectful to the Daemonic? Are you interested in the concept of the brass vessel? How about working with Goetic Daemons outside the original seer rite? If you said yes to any of this — this workshop is for you. In it we'll discuss working with Goetia Daemonolatry style, in the context with the original rite (modified of course), how to work with Goetia outside the traditional methods, and creating and using brass vessels with a demonstration. The recommended text for this course is Daemonolatry Goetia.  The text is just a suggestion and not required.
Be sure to bring your questions with you.
Participants may get personalized help with their concerns or additional questions once the presentation is over. There are several scholarships available for this workshop. Contact [email protected] for more information.
Contact [email protected] for more information. Special rates for TTS, or call-in only participants may apply. Contact for details. Only those who signed up for the first three workshops will be eligible for the fourth workshop discount.
SIGN UP FOR THIS WORKSHOP HERE!!!
Feel free to share the link and use the comments below for general questions.